Grimston have over 60 years experience in the Yorkshire area and have thousands of satisfied customers. We are fully UKATA registered asbestos removal specialists and offer free surveys for asbestos removal and disposal throughout West Yorkshire.
Asbestos roof removal throughout West Yorkshire. We are specialist at removing asbestos roofs in West Yorkshire. We have removed asbestos roofs in Bradford, Leeds, Keighley, Halifax, Huddersfield and Wakefield. Grimston are fully qualified and authorised asbestos roof removers.
Despite the risks of asbestos almost 60% of all industrial properties in the UK and 25% of domestic garage and outbu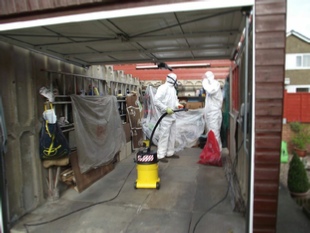 ildings have an asbestos type roofing material.
Usually they have a contoured outline and are a grey or buff colour. Roof profiles are constructed from asbestos cement the most typical of which is Chrysotile (white) asbestos. Although cement based products like roofing and cladding sheets are fairly low risk, because the asbestos is contained within the cement to add strength and water resistance it is still recommended to replace them as age causes deterioration and the panels can become porous and be prone to leaks.
When they become porous, they are also considerably weaker, yet show little sign of this from the outside, though they may appear soiled and mossy. Extreme caution should therefore be applied when walking on any asbestos cement roof and professional access equipment should be employed wherever possible.
When broken, an asbestos cement panel can release asbestos fibres and therefore
(f working on a panel) it is strongly advised that breathing masks be worn to protect the lungs from asbestos fibres. One of the biggest dangers comes with a fire, because (although they don't burn) asbestos panels can explode due to extreme heat and shower the surrounding area with invisible and highly dangerous asbestos fibres.
If your asbestos roof is in a poor state of repair, we advise you replace it with an alternative material, rather than trying to patch it with products that don't quite match the outline of the original and do not reduce the danger level.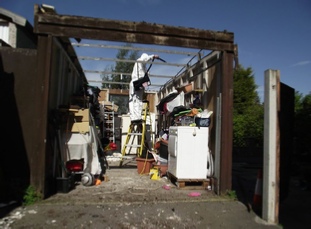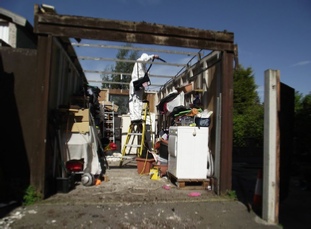 We will quite happily survey your asbestos removal project free of charge.
Our prices are reasonable and we work to the highest standards.
CALL US FREE TODAY ON
01274 66 00 60
Safe and certified asbestos roof removal.
If your roof contains asbestos you need to make sure it if safely and responsibly removed and disposed of by a qualified contractor. Grimston Asbestos Roof Removal are UKATA A&B trained and Licensed waste carriers.
We will make sure:-
The roof is properly prepared for the asbestos removal.

All asbestos is safely removed.

The site is decontaminated.

All asbestos is removed from site and ethically disposed of.
All work to the highest standards.
We Can Safely Remove and Decontaminate Asbestos From Your Property. We Are Certified Asbestos Removal and Disposal Experts With Years of Experience In The Industry. Call Grimston Asbestos Removal Today For A Free Survey and Price.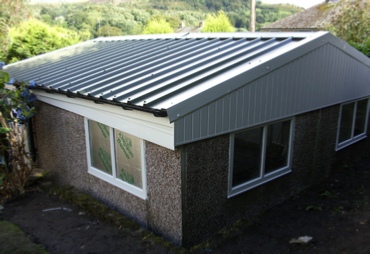 Do not take risks with asbestos roofs. Call Grimston Asbestos Removal today on 01274 66 00 60 .

G
rimston Asbestos Removal, Unit 10 Commerce Court, Challenge Way, Cutler Heights Lane, Bradford BD4 8NW